05.10.11
This week's post in the global weather and climate series features Kwajalein Island, part of the Kwajalein Atoll of the Republic of the Marshall Islands (click for a Yahoo! maps link).
You may know by now that I recently accepted a job offer to work as a forecaster on Kwaj, as the locals call it. I'll write a lot more about the island later, of course (see my new Kwaj blog here), but I thought I'd do a feature post on Kwaj before I even get there.
The Kwaj Lodge, for short-term housing but typical of housing on the island. From Wikipedia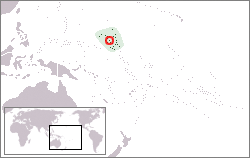 Map showing the location of Kwajalein Atoll, from Wikipedia
Kwajalein Island is a small island on the southern end of the Kwajalein Atoll. An atoll is a series of islands on a coral reef that surrounds a lagoon. Again, I'll write more on all of this later.
Kwajalein Atoll is part of the Republic of the Marshall Islands, although Kwajalein Island is a U.S. Army base so there really are no locals on this island. The Marshall Islands are way out in the Pacific, and Kwajalein is just north of the equator and just west of the International Date Line.
Kwajalein has a long history, but in short, the Marshall Islands are Micronesian and were taken over by the Japanese some time in the early 1900s. The U.S. fought over (and won) Kwajalein during World War II, and today the island is an army missile testing site (from what I understand the island is sort-of "rented" out to the U.S., although there is much more to it than that).
A few more facts about Kwajalein (weather data from the RTS Weather Station, where I'll be working):
Time zone: UTC + 12
Elevation: near sea level
Climate zone: Tropical marine
Average high temperature: 87 °F (30 °C)
Average low temperature: 78 °F (25 °C)
Average annual high/low temperature range: 86 to 87 °F (30 to 31 °C) / 78 °F (25 to 26 °C)
Record high temperature: 97 °F (36 °C)
Record low temperature: 68 °F (20 °C)
Average annual rainfall: 80 inches (2,030 mm)
Weather: As you can tell by the statistics, Kwajalein does not have much of a temperature range; the island is typically warm and humid, and I hear there are two seasons: warm and wet, and warm and windy (trade winds).
I look forward to learning a lot more about the tropical weather of Kwajalein before and during my time there. I do know that the island is too close to the equator to get strong typhoons (tropical cyclones), although they may occasionally get sideswiped by weaker cyclones.
As to the weather this week…I'll guess that highs will be around 86 °F and there may be a chance of thunderstorms! (Check the forecast…yep, that's about right! Though I know there will be more to my job than just that… 🙂 )
For weather maps and information on current and forecast Kwajalein weather, see the RTS Weather Station, Weather Underground and Weather Online UK (global maps and models).
Here's a Wikipedia link for Kwajalein Atoll, and here's a Wikipedia link for the Republic of the Marshall Islands.
Next Tuesday I plan to take a look at the climate and weather in another part of the globe, hopefully just after witnessing a space shuttle launch! As always, if you have any suggestions for future cities, please leave a comment!
Follow Green Sky Chaser on Twitter and Facebook for weather, chasing, and blog updates.