05.16.13
Yesterday (May 15) was kind of a tricky day, with lots of CAPE, a decent dryline, and not much of a cap, and things could quickly get messy if they started to form.
We spent much of the day just sitting around near Abilene waiting for storms to fire in our area.
As always, click to enlarge any of the following photos.
After awhile we meandered a bit back towards Anson as a storm seemed to be pulsing on radar, but no sooner did we arrive than it died for good.
After a little while storms finally started going up ahead of the dryline and we followed a growing supercell through Mineral Wells. We had to wait for the storm to pass the town, and then we stopped and took a look at the hail on the ground.
We saw many tennis ball and baseball-sized hail stones that were rapidly melting, and presumed at least softball-sized stones had fallen.
We then followed the supercell to just south of Millsap, where we watched massive and violently rotating wall clouds cycle until we saw at least one tornado touch down.
Above is a radar grab of the supercell a few minutes before it produced a tornado. Our position is marked by the blue circle.
We happened to stop beside a pair of American and Australian flags, not noticing it for a few minutes. Our chase group this year consists of 3 Aussies, 1 New Zealander, and 1 American, so it was amusing for our international crew!
Tornado touchdown around 7:10 pm a couple miles south of Millsap.
Will, Dean, and Jon Fischer
Dean, Will, Jon Fischer, and Jon Grimes: first tornado for the Jons!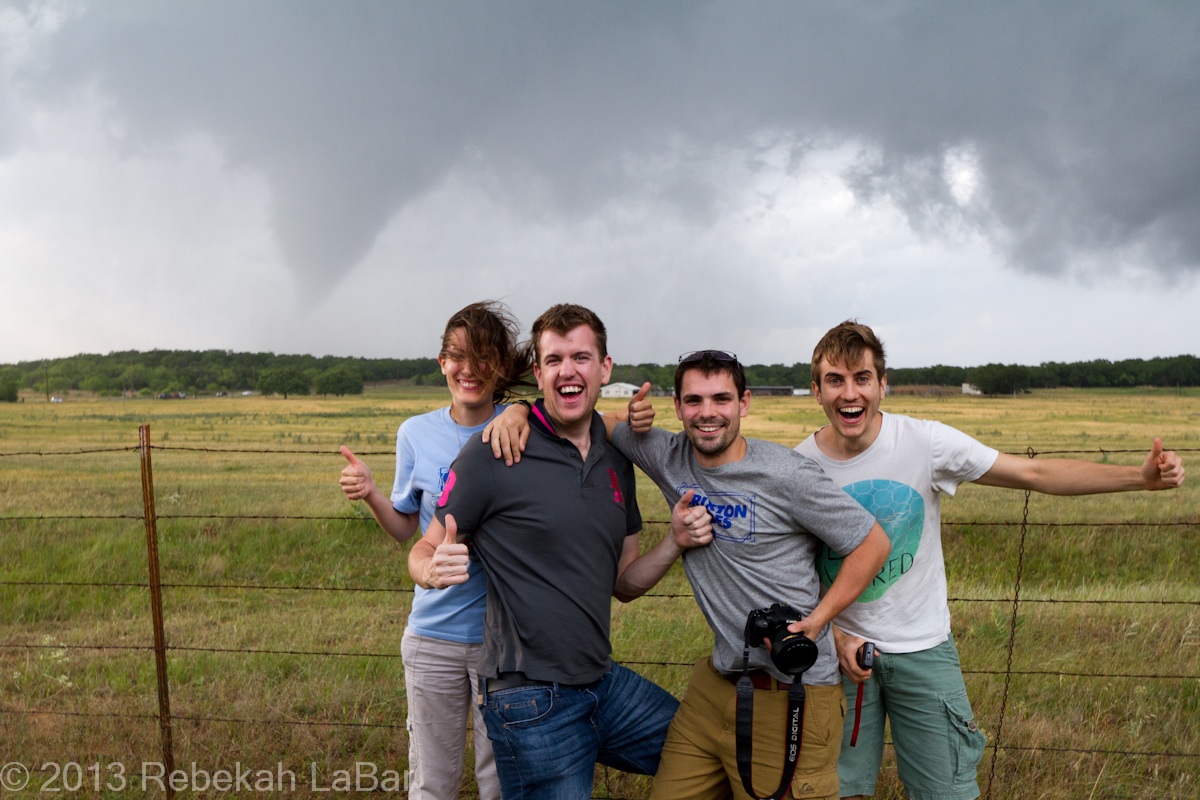 Me, Dean, Jono, and Fisch
We followed the storm for a little while before it got cut off by another supercell to our south, which at the time was putting down a tornado moving through Granbury.
By the time we got to Granbury, the cell was just ahead but it was getting darker and we decided to call off the chase. We saw some still fairly large hail stones in the city, and then came across the tornado damage path, close to Decordova.
Even after seeing the rotation signature and debris ball on radar, we were still shocked by the amount of damage we saw. It was horrendous, and brought back memories I had tried to suppress from witnessing the destruction of Greensburg 6 years ago.
Houses leveled, debris strewn everywhere, people wandering around crying, sirens going off, ambulances everywhere, it was so sad.
Preliminary damage assessments have the tornado at EF4, but it wouldn't completely surprise me if it is ultimately rated an EF5. At least 6 or 7 people are reported dead, about 100 injured, and a few still missing. It was very emotional for us to see this tragic side of the power of the storms we are drawn to chase. Thoughts and prayers to everyone affected by the storms yesterday.
Our chase was about 8 hours long and just 220 miles.
Today we're on our way driving north to probably western Kansas to position ourselves for chasing the Northern Plains the next couple days.
Permalink Comments off