03.07.11
While last week we looked at how surface observations are made, this week we'll look at how upper-air observations are made, focusing on weather balloons (some measurements may be taken by aircraft, as well).
Radiosondes
(Radiosonde photo from Wikipedia)
The primary instrument for measuring upper-air weather data is a radiosonde. A radiosonde is a small box that measures temperature, relative humidity, pressure, wind speed and direction, altitude, and GPS location. (Technically, a radiosonde doesn't measure wind…instruments that do are called rawinsondes, but colloquially we still like to call them radiosondes.)
The radiosonde is attached to a large, hydrogen-filled balloon, which can ascend to over 100,000 feet in altitude, at which point the balloon could have expanded to the size of a two-story building! Data is transmitted to the surface throughout the balloon's flight.
(Photo courtesy of the National Weather Service)
As the balloon expands as it rises (due to lower pressure higher in the atmosphere), it will eventually pop and come back down (sometimes prematurely). The ascension can last for two hours, at which time the instrument may have reached over 100,000 feet in altitude and may have drifted well over 100 miles away from the point of release.
Weather balloons are launched twice a day at over 400 locations around the world, around 12Z and 00Z (remember the universal time zone we talked about recently?). The following figure from the College of DuPage shows where radiosondes are launched in the U.S. (as well as southern Canada and northern Mexico). The light blue spots are supplemental sites where balloons are launched only on special occasion (in case of severe weather, snowstorm, etc.).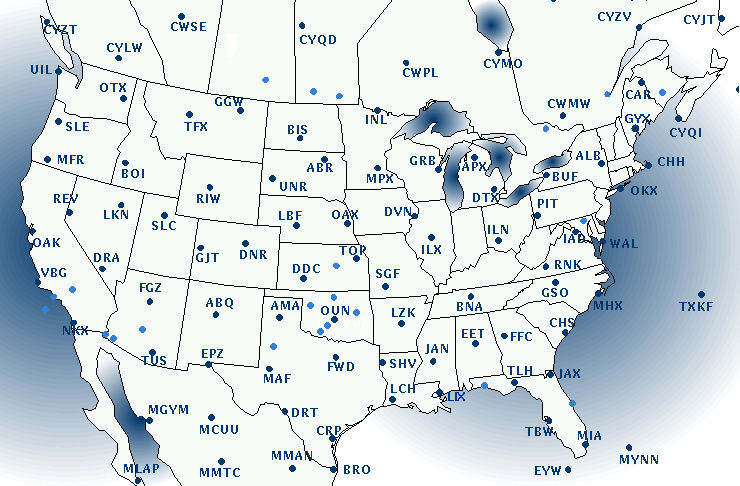 We'll discuss how this upper-air data is plotted a little later in the series.
————————————————–
Next Monday we will take a look at remote sensing observations, including radar and satellite.
Follow Green Sky Chaser on Twitter and Facebook for weather, chasing, and blog updates.