02.04.11
The past week has been a brutal one for parts of the U.S. and Canada, what with frigid temperatures, ice, snow, and blizzard conditions (not to mention severe thunderstorms and tornadoes in the Southeast).
Now here's a summary of what the weather in the U.S. is doing today and what it may do in the near future.
Snow cover as of 12Z (7 am Eastern, 4 am Pacific), from WSI:
A few observations: most of Texas is covered in snow, as well as Oklahoma. Hmm…ironic how the Super Bowl is in Dallas this weekend and the city gets several inches of ice and snow. Note also that the path of the recent ice/snow storm is fairly evident, from the Southern Plains up into the Northeast.
Surface map as of 6:30 pm Eastern, 3:30 Pacific, from The Weather Channel:
Highlights:
High pressure over the Northwest
Rain is falling in western Washington
Snow is falling in the Rockies of northern Idaho and western Montana
Rain is falling in eastern Montana, ahead of a cold front stretching from a surface low in eastern Ontario down through southern Saskatchewan and up into northern Alberta
There is also a warm front extending south of the low in Ontario down through Minnesota
There is a small band of snow and ice falling from Lake Superior to northern Lake Michigan
Some rain and snow is falling in northern Colorado
The southern Midwest into the Southern Plains is dominated by high pressure
Snow is falling from central Oklahoma into Arkansas and southern Missouri
Rain is falling from Kentucky and Virginia southward to Mississippi and the Florida Panhandle
There is a surface low in the Gulf of Mexico, with a stationary front extending eastward into the Atlantic
500 mb map as of 12Z, from the Storm Prediction Center: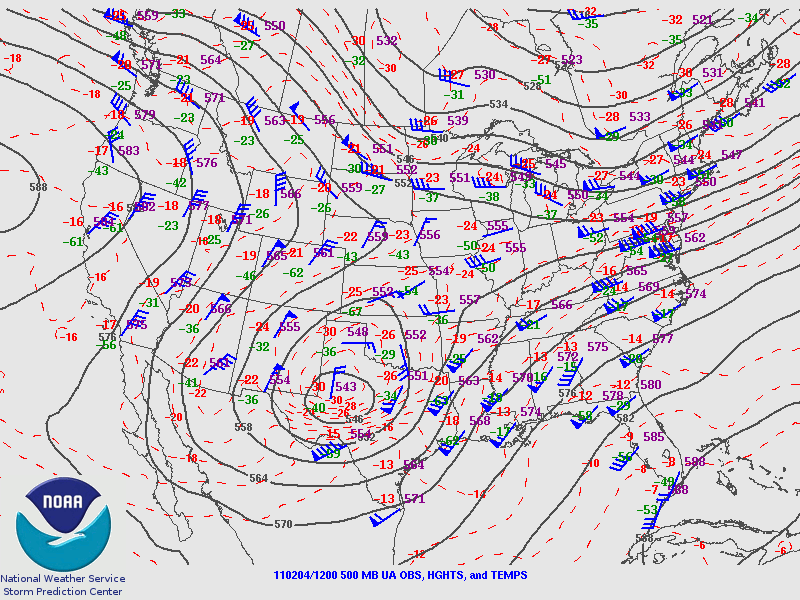 Note the pattern of a ridge in the west and a trough in the central to eastern U.S. continues…this morning the shortwave trough was over Texas, and the lift on the eastern side of this shortwave is what's partially responsible for the snow falling from Oklahoma to Missouri.
Temperatures as of 6:45 pm Eastern, 3:45 Pacific, from The Weather Channel: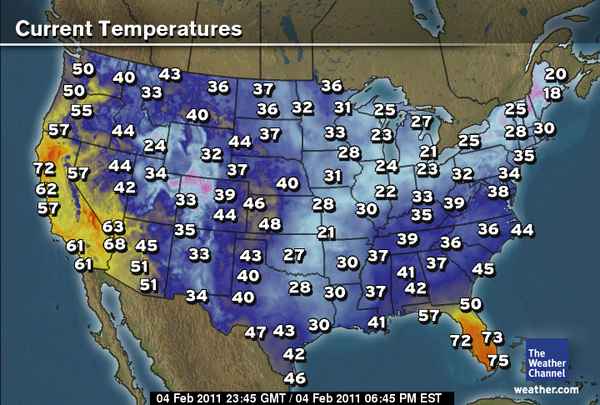 All I can say is I wish I was in California or southern Florida about now!
A few notes on upcoming weather:
Northeast: a new low is expected to form Saturday, and will strengthen over New England overnight…snow and freezing rain is expected in southern New England on Saturday and snow a bit further north through Monday
Midwest: another low will form tomorrow over the western Midwest, bringing some snow and sleet to the eastern Dakotas into Minnesota and Iowa
Northwest: another wet week for western Washington, with another plume of moisture coming up from the central Pacific…snow, sleet, and freezing rain expected for eastern Montana tonight and tomorrow, as well as into the Dakotas
Southwest: dry and warmer in the southwest over at least the next few days…L.A. could get to 80 on Sunday
South central: The next few days could be snowy off and on for parts of the Southern Plains, though Dallas should be dry (but in the lower 40s) for the Super Bowl on Sunday
Southeast: Warm in Florida (in the 70s!) but rainy over parts of the Southeast for at least the next couple of days
6-10 day temperature and precipitation outlooks, from the Climate Prediction Center: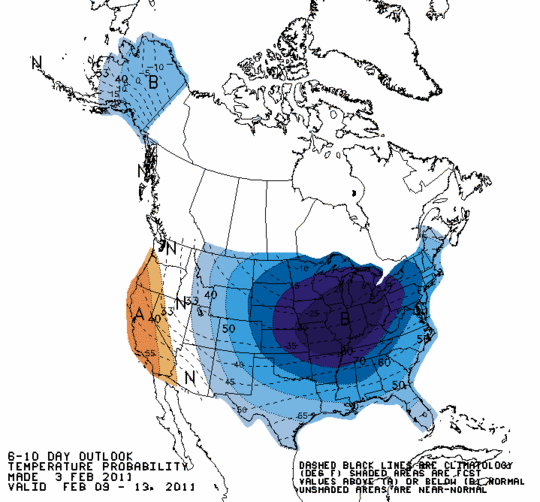 Well below normal temperatures for much of the U.S.! Brrr!!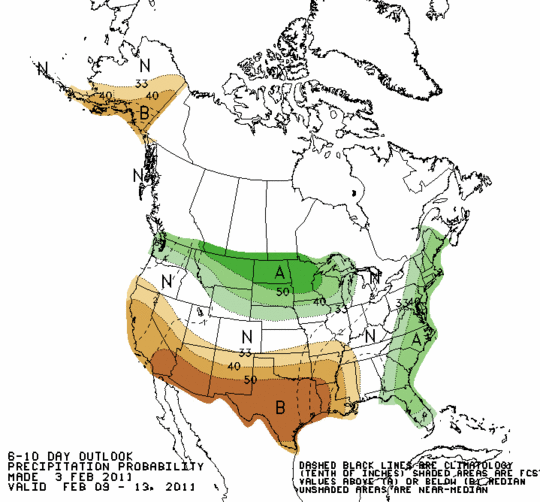 Follow Green Sky Chaser on Twitter and Facebook for weather, chasing, and blog updates.