01.30.11
As if Queensland hasn't already seen enough rain and flooding to last a lifetime, a new tropical cyclone is forming in the southeast Pacific, and models show it strengthening to possibly a Category 3 (Australian) cyclone (probably only Cat. 1 on the Saffir-Simpson scale) just before making landfall somewhere near or south of Townsville, Queensland on Thursday.
This tropical cyclone, Yasi (on the Fiji names list), may bring 70+ mph (110+ kph) winds and heavy rain when it makes landfall. The GFS model is currently predicting a minimum pressure of 976 mb, while the ECMWF is predicting a minimum pressure of 972 mb, with a slightly faster track.
Here's the GFS model's forecast (from Weather Online UK) for surface pressure and precipitation, at 18Z on Wednesday (4 am Thursday, local time)…the cyclone is predicted to make landfall about 6 hours later: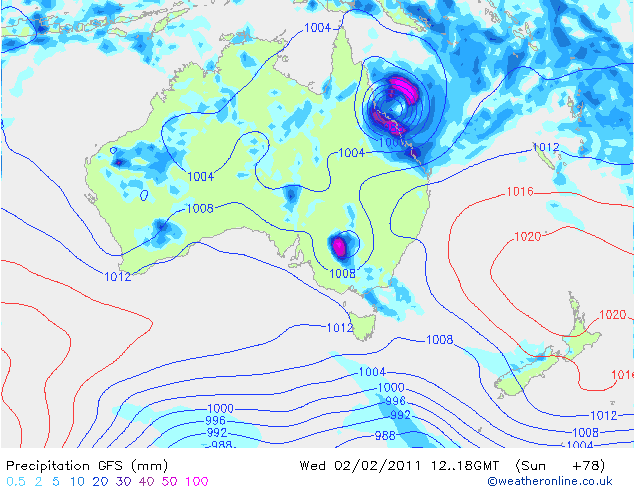 Here's an ECMWF forecast for surface pressure, for comparison…the nearest time they have is for Thursday at 00Z (10 am Thursday, local time):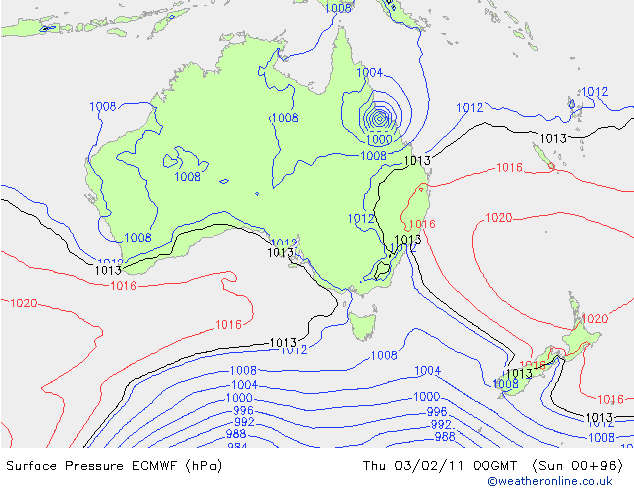 Here's what the Australian Bureau of Meteorology is predicting for the next few days (for those of you in the U.S., the local "Eastern Standard Time" on this map is 15 hours ahead of the U.S. Eastern Standard Time):
Waters off the eastern coast of Queensland are warmer-than-normal, aiding in the strengthening of Yasi just before landfall.
Tropical sea-surface temperature anomalies, from the Climate Prediction Center:
Here's another link, from NCDC, showing sea-surface temperature anomalies across the entire globe over the past 5 weeks.
Follow Green Sky Chaser on Twitter and Facebook for weather, chasing, and blog updates.