01.28.11
The Knickerbocker Storm was a blizzard that took place along the mid-Atlantic U.S. coast on January 27 – 28, 1922.
The blizzard was known for the collapse of the Knickerbocker Theatre in Washington, D.C., under the weight of heavy snow. Tragically, 98 people were killed and 133 injured when the cinema's roof caved in.
The Knickerbocker Theater, following its collapse. Source: NOAA
Meteorological Synopsis
Nearly a week prior to the event, a sub-freezing airmass set in across the Northeast and mid-Atlantic.
A low formed off the coast of Georgia, and rapidly deepened as it began to move up the coast. A strong high pressure system in southeastern Canada prevented the low from moving northward very fast, so it took three days for it to travel up the East Coast, prolonging the event.
On the 27th, heavy snow started to fall from the Carolinas to Pennsylvania with the low off the North Carolina coast. The hardest-hit areas were from Washington, D.C. to Philadelphia. Snow fell in Washington from about noon on the 28th until the morning of the 29th. Snow totals in the city ranged from 28 to 33 inches. This went down as the biggest snowstorm in Washington since official records began in 1885.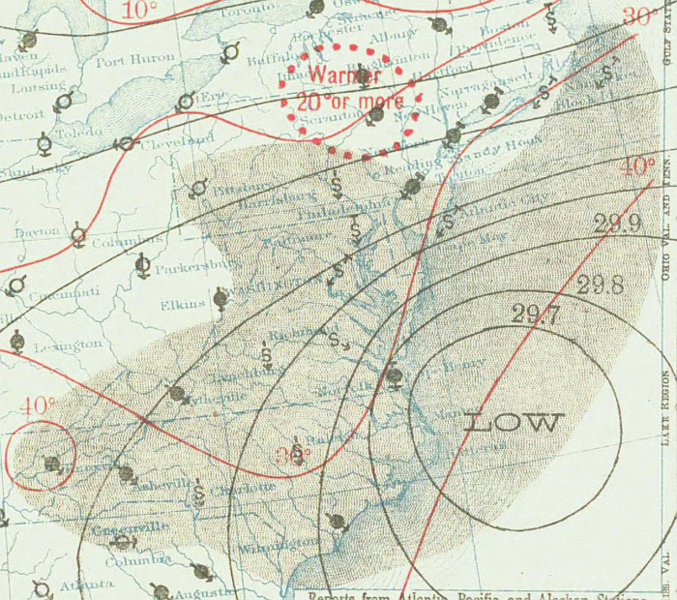 Weather Bureau map from the morning of January 28, 1922. Source: NOAA
Impacts
Parts of the Northeast received 20 or more inches of snow, while much of the rest of the Eastern Seaboard received at least 4 inches. Some snow drifts on railroad lines between Philadelphia and Washington were as high as 16 feet.
The Knickerbocker Theatre in Washington, D.C. was just 5 years old and was the biggest cinema in town. The roof was flat, allowing the wet, heavy snow to accumulate and eventually force the roof to collapse. The balcony section came down as well, and dozens of people were buried. Hundreds of rescue workers came to help, some of them comparing the scene to one from World War I. This disaster ranks as one of the worst in Washington's history.
Follow Green Sky Chaser on Twitter and Facebook for weather, chasing, and blog updates.