01.08.11
Weather Discussion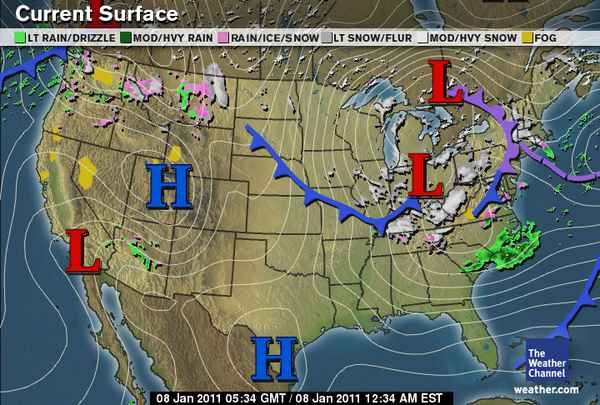 National: The primary features on satellite and upper-air maps are the large low-pressure system over the Northeast and the split-flow over the West, including a shortwave trough over the Northwest, a ridge over the northern Rockies, and a shortwave trough over the Southwest.
Rain and snow is ongoing in the Cascades and northern Rockies, a large surface high is located over the Great Basin, and the mature cyclone over the Northeast is bringing snow to New England and the Ohio River Valley. An arctic front extending across the central part of the country is bringing cold temperatures to the Plains as well as a chance for freezing rain and snow.
Southern Plains: The shortwave trough over the Southwest will dip down into Texas on Sunday, increasing lift and the chances for rain and snow in the wake of the cold front. Ground temperatures will probably be too warm for much snow accumulation; the greatest chance for snow would be in eastern Oklahoma, where temperatures are expected to be colder.
The type of precipitation is rather tricky to forecast for Oklahoma…forecast soundings for central Oklahoma Sunday evening show a saturated profile just at or below freezing. This means snow could fall, but if the temperature winds up just a little warmer than forecast, we could get just rain or even freezing rain. On the other hand, it looks a bit more certain that a snow/sleet event is building for the Arklatex region on Sunday and sleet/freezing rain for the Southeast on Monday and Tuesday.
On Monday, a trough will deepen over the Rockies and the exit region of a jet streak will be over Oklahoma. This will enhance lift and there will be another chance for some wintry precipitation. Forecast soundings for central Oklahoma again show saturated profiles just below freezing. Northern Oklahoma may get a bit more snow on this day.
The cooler weather will continue throughout the week…high temperatures in Oklahoma will primarily be in the 30s, with lows in the 20s. The latter half of the week should remain dry but breezy.
Follow Green Sky Chaser on Twitter and Facebook for weather, chasing, and blog updates.