03.26.11
I feel like I'm the only storm chaser who has only chased one day so far this year. I know that's not true, but a number of chasers have already bagged multiple tornadoes and storms.
To be fair, there really haven't been any good setups yet in my early season chase region. Before April (or really even May) I don't like to spend too much gas money on risky setups outside of southern Kansas to northern Texas (including the Panhandle), and I don't usually chase east of I-35 (at least in Oklahoma).
So the question remains: when will the next good chase setup present itself for the Southern Plains?
The following 500mb map from 00Z last night (from the Storm Prediction Center) shows rather weak shortwave troughs in the Northwest into the southern Rockies and in eastern Canada, while there's perhaps a bit of ridging going on in the south central U.S. Not too exciting.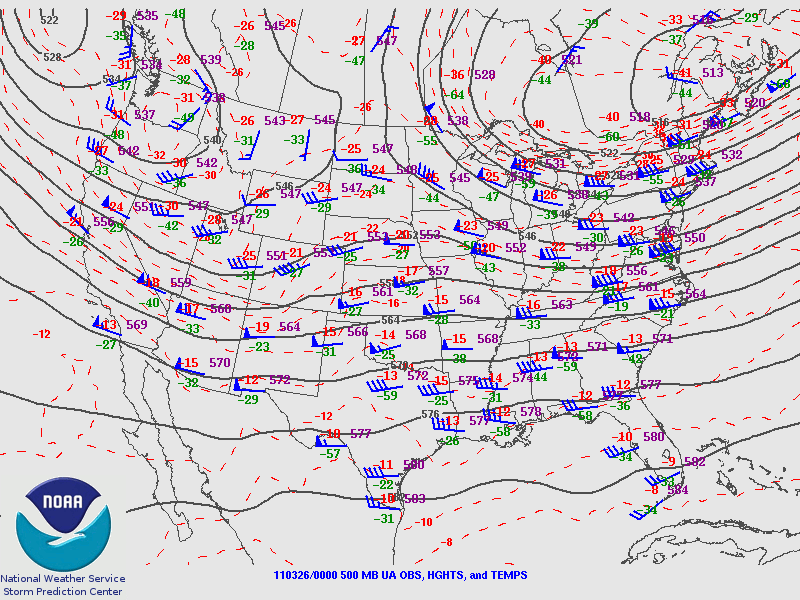 The GFS and NAM models (model observations are based on 00Z runs) do show that the trough in the West will begin to strengthen and dig further south tomorrow. By Monday evening, the models show the trough over Utah with an elongated surface low over northeastern New Mexico and the western Texas Panhandle.
The GFS is a bit more bullish on moisture, as south of the warm front (along the Red River), dewpoints are in the mid- to upper 60s in central into eastern Texas, while the NAM only has these dewpoint values along the Texas Gulf Coast.
The GFS solution for Monday is a bit interesting, but still not enough to tempt me, unless it starts to look better and perhaps sets up a tad further north and west. Also, it looks like the moisture depth will be pretty shallow.
00Z GFS 72-hr forecast for surface pressure and dewpoints, valid 00Z Tuesday (Monday evening), from TwisterData
By Tuesday evening, the GFS shows the trough will have moved on to Missouri. Tuesday may wind up a bigger severe weather day for the lower Mississippi River Valley.
On Wednesday, the GFS indicates another trough may be digging into the southern Rockies, but the model indicates that moisture will be even worse than on Monday, so the chance of storms appears slim at this point.
It also looks like after the Wednesday system, northerly winds will prevent us from getting much moisture return any time soon.
There may be another slim chance or two for severe weather the following week, as some meager moisture may be present in Texas, but it still doesn't look any good and is too far out to say anyway.
One thing I would bet on, though: I would bet that there will be a good Southern Plains chase day or two (maybe the first outbreak) while I'm in Florida the third week of April. However, I know it won't bother me as there will always be more tornadoes…but there will only be two more shuttle launches!
Follow Green Sky Chaser on Twitter and Facebook for weather, chasing, and blog updates.
Permalink Comments off