01.21.11
The Mud March was the ill-fated attempt by Union Army Major General Ambrose Burnside to defeat Confederate General Robert E. Lee in the Civil War near the Rappahannock River south of Fredericksburg, Virginia.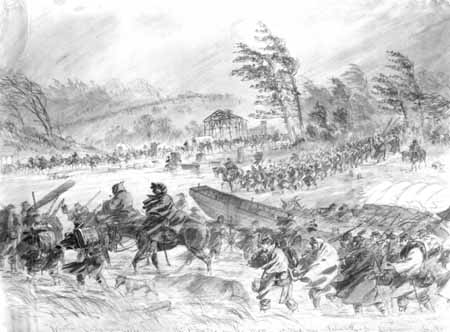 The Mud March. From "Washington Weather"
Background
In December 1862, Burnside led a frontal attack on Lee's army near Fredericksburg. The Confederate Army of Northern Virginia soundly beat the Union Army of the Potomac, however, and the Battle of Fredericksburg came to be known as one of the most one-sided battles of the Civil War.
The Plan
In January 1863, Burnside, desperate to restore his reputation and the morale of his army, planned another surprise attack on Lee's army just south of Fredericksburg. His army would cross the Rappahannock River to flank the Confederates, while the Union cavalry would cross the river 20 miles to the north and then come in from the rear.
President Abraham Lincoln found out about the plan and believed it was too risky, but Burnside only changed the point of his river crossing, by moving further upstream.
The Mud March
On January 20, 1863, the anticipated day of attack, a strong extratropical cyclone began to move up the East Coast. The nor'easter brought heavy rainfall to the coast and snowfall further inland. The rain continued for two days (Washington, DC reported 3.2 inches of rain), saturating the ground and turning the dirt roads into thick mud. Gale-force winds also blew and temperatures near Fredericksburg were in the upper 30s.
Burnside tried to keep going, but after the troops struggled to move in knee-deep mud, the wagons got buried up to their wheel hubs, the artillery got stuck, and teams of horses and mules became exhausted and died, he finally listened to the complaints of his army and decided to head back to camp. Reportedly, a team of a dozen horses and 150 men could not pull even one cannon out of the mud. Eventually, after placing logs on the mud, the army was able to make it out of the mess and get back to camp. The soldiers derisively called the trek the "Mud March".
After Effects
On January 26, President Lincoln replaced Burnside with Major General Joseph Hooker. The Mud March was the last attempted major winter offensive during the Civil War.
Side note: Burnside had at the time what was considered rather unusual facial hair. The strips of hair down the sides of his face came to be called "burnsides", and later what today we call sideburns.
——————–
Sources: Washington Weather and Wikipedia
Follow Green Sky Chaser on Twitter and Facebook for weather, chasing, and blog updates.
Permalink Comments off