12.05.12
Yesterday I showed a couple maps from the NWS depicting recent precipitation in Washington; now let's take a look at precipitation across the entire lower 48.
Percent of normal precipitation across the CONUS and Puerto Rico over the last 14 days (click to enlarge), from the NWS.
Two things immediately stand out to me here.
The majority of the US has been very dry in the last couple weeks. Actually many of these regions have been in a drought for quite some time. It's also been abnormally warm in places; some of my friends in Oklahoma and Texas have been happy (or unhappy) at the unseasonably warm temperatures lately.
The West Coast has been abnormally wet lately. As I've talked about recently, parts of the West Coast have been pounded with strong weather systems bringing lots of warm, moist air, leading to heavy rains, floods, and landslides. California has been hit especially hard. Large parts of the state have seen over 300% (even over 500%) of their normal rainfall recently.
As to what we can expect for this winter, it can be hard to say. Early predictions for the season, which are usually based heavily on the phase of ENSO (El Niño / La Niña), were shaken up after the expected El Niño failed to develop. We're currently in a neutral phase, which means there isn't a high degree of confidence in the season-long predictions.
Still, here's the latest outlook from the Climate Prediction Center.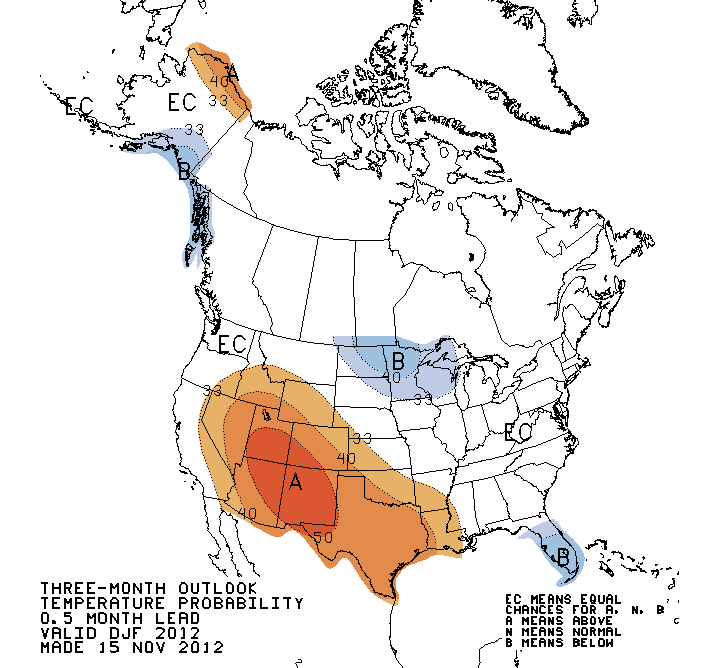 December through February temperature probability outlook. This shows a good chance for a warmer-than-normal southwestern US, with a colder-than-normal upper Midwest (I have a friend in North Dakota who isn't too excited at the prospects of his first full winter there being a particularly chilly one!) and Florida.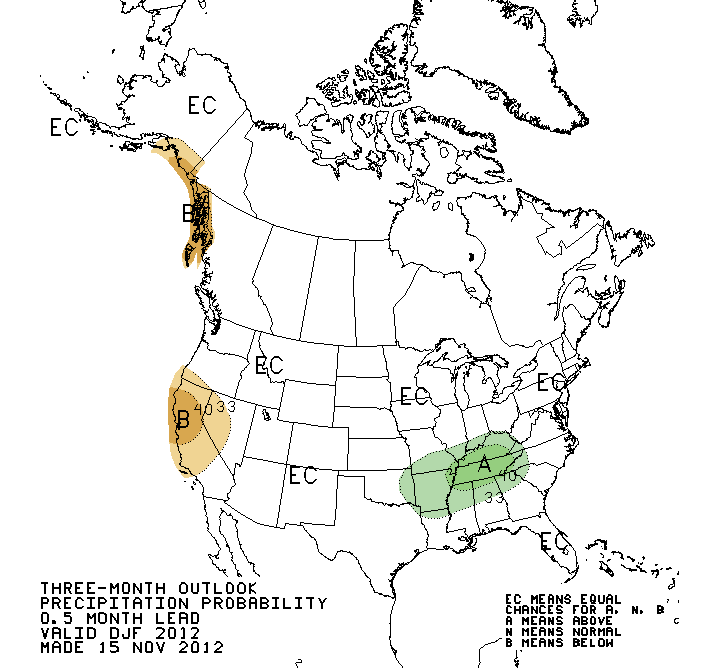 December through February precipitation probability outlook. Looks pretty normal except for a decent chance of a drier-than-normal California and a wetter-than-normal Kentucky and Tennessee. So far the prediction isn't looking very accurate for California, but after a wet start to the winter, I'm sure they're hoping they start trending more towards this forecast!
Permalink Comments off