04.25.11
My route today, from Norman, Oklahoma to Tupelo, Mississippi (click to enlarge):
Storm reports from today, as of the time I write this:
As of the time I write this, there have been 33 tornado reports today. At least a couple tornadoes occurred near Little Rock, a few hours after I passed through. At least two more tornadoes occurred in southeast Memphis, just minutes before I arrived in the city.
With storms behind and ahead of me, I was blessed to miss all heavy rain and severe weather. Normally I'd be eager to chase tornadic storms, but for this trip I wish to avoid them!
Tomorrow I'll be in another moderate risk area, but again the storms should primarily remain behind me.
Today was my first time stepping foot on Tennessee ground, aside from connecting in the Memphis airport once.
Today was also my first time stepping foot in Mississippi. My first impression was good, as I enjoyed driving through the forest and noting more and more pine trees.
Here are a few of my photos from the day, all from Memphis with the exception of the last one (from Tupelo).
The Pyramid Arena, formerly used as a sports arena and concert venue…now it sits empty.
Note the statue of Pharaoh Ramesses the Great out front.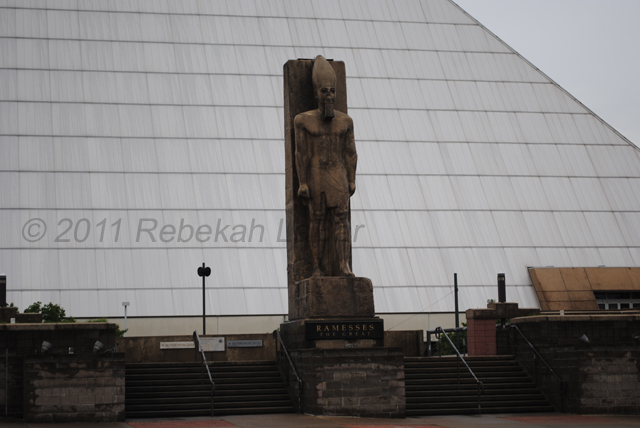 The Mississippi River! I'm looking towards the I-40 bridge, towards Arkansas. I touched the river for the first time…I put my hand in, and then promptly washed it, as the river was rather muddy. 😛
Another view of the Mississippi, looking upstream (it was flowing pretty fast!).
Looking up the bank of the Mississippi River, towards some nice houses in "Harbor Town". Note also the Purple Martin house, with a couple of the birds hanging around!
A tugboat, pushing a container ship down the river.
Elvis Presley's Heartbreak Hotel, across the street from Graceland.
Graceland Mansion, Elvis' beloved home.
A parlor / living room area with piano inside the mansion.
Dining room.
A recreation room! Check out that decoration scheme!
Part of the "Jungle Room". There is a waterfall on that wall on the left (hard to see).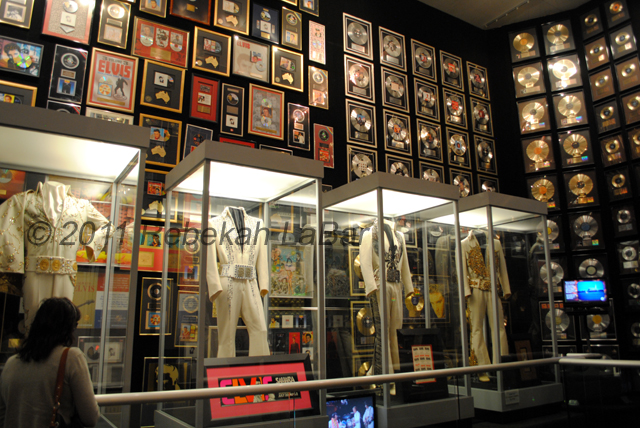 Can you believe anyone would actually wear a costume like that?
Burial site for Elvis and family.
Elvis' birthplace in Tupelo, Mississippi.
Ok, that's all for tonight…time to get some sleep before traveling again tomorrow! It does look like I'm going to get a big bow echo here in Tupelo overnight, but that's fine with me as long as it's not tornadic, doesn't keep me from sleep too much, and it's out of the way by the time I leave! I'll give a short update in the morning when I'm about to head out.
Follow my tweets at http://www.twitter.com/greenskychaser
Permalink Comments off