04.12.11
This week's post in the global weather and climate series features Alice Springs, Northern Territory, Australia (click for a Yahoo! maps link).
The springs that gave Alice Springs its name, from Wikipedia
Alice Springs is in the south central Northern Territory, near the center of Australia. This arid town is situated on the northern side of the MacDonell Ranges, a 400-mile-long series of mountain ranges in central Australia (the tallest is just over 5,000 feet).
Aborigines first came to this area thousands of years ago. Europeans began to settle in Alice Springs by the late 19th century, with the construction of a telegraph line and the discovery of gold. Until 1933, the town was known as Stuart (named for the first European to travel from southern to northern Australia).
Today, Alice Springs is home to nearly 28,000 people, and is primarily dependent on tourism.
Alice Springs hosts a number of sporting events, including the world's only dry river race. The Henley-on-Todd Regatta, also known as the Todd River Race, is a race with bottomless boats in the sandy, dry riverbed of the Todd River (you HAVE to check out that webpage, it's so interestingly bizarre). "Boats" are made of anything anyone can find, from metal frames with advertisements to washtubs to giant hamster wheels. Residents first came up with the idea to playfully mock the original British settlers and the British boat races, most notably the Henley Royal Regatta at Henley-on-Thames, England. In 1993, the Henley-on-Todd Regatta had to be cancelled, as there was actually water in the riverbed!
Henley-on-Todd Regatta, Alice Springs, from OzOutback
Another unique event is the Camel Cup, which consists of a series of races using camels instead of horses.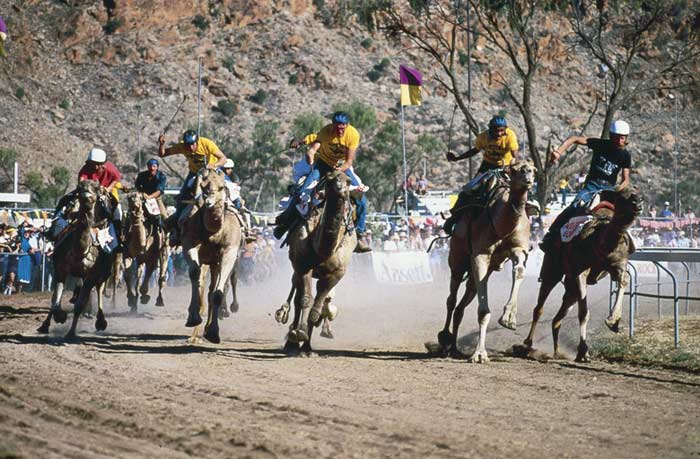 The Alice Springs Camel Cup, from Wikipedia
A few more facts about Alice Springs (from Wikipedia):
Time zone: Australian Central Standard Time (UTC+9:30)
Average elevation: 1,791 ft (545 m)
Climate zone: Desert
Average high temperature: 84 °F (29 °C)
Average low temperature: 56 °F (13 °C)
Average annual high/low temperature range: 68 to 98 °F (20 to 36 °C) / 39 to 71 °F (4 to 21 °C)
Record high temperature: 113 °F (45 °C)
Record low temperature: 19 °F (-8 °C)
Average annual rainfall: 11 inches (282 mm)
Panorama of Alice Springs, from Wikipedia
Weather: Currently there is not much going on over central Australia weatherwise, except for a trough that should come through on Thursday and bring some clouds and cooler temperatures (but not rain). Alice Springs is pretty dry year-round, but southern winters are especially dry in this region.
This week the high temperatures are warming up from the lower 70s to the upper 80s by Thursday, before the trough arrives and pushes the highs back to the upper 70s by the weekend.
For weather maps and information on current and forecast Alice Springs and Australian weather, see the Australian Bureau of Meteorology, Weather Underground and Weather Online UK (global maps and models).
For a bit more information on Alice Springs, here's a link to Wikipedia.
Next Tuesday I plan to take a look at the climate and weather in another part of the globe.  As always, if you have any suggestions for future cities, please leave a comment!
Follow Green Sky Chaser on Twitter and Facebook for weather, chasing, and blog updates.