08.30.10
There's so much going on today weatherwise, it would be difficult to discuss it all, or even to just pick one topic. So tonight I'll just stick with showing a few maps and noting a few highlights of each.
First up: tropical cyclones in the Atlantic.
Figure from the National Hurricane Center.
The big story today is Earl, now a Category 4 hurricane with estimated sustained winds of 135 mph and a central minimum pressure of 938 mb, the lowest pressure in the Atlantic Basin since Hurricane Ike in 2008 (935 mb). Earl could become a borderline Category 5 hurricane tomorrow, when the cyclone is expected to peak at 150 mph (Category 5 has winds of over 155 mph).
Earl has brought heavy rain and strong winds to the Leeward Islands and Puerto Rico today, but is starting to move west-northwest away from Puerto Rico. Earl's eye is expected to remain offshore, but some of the outer bands could affect the New England Coast by the end of the week.
Tropical Storm Fiona formed this evening, but is expected to remain weak. Danielle is now a tropical storm as well, moving well off into the north central Atlantic.
Second: tropical cyclones in the western Pacific.
Figure from Weather Underground.
The western Pacific has been surprisingly quiet so far this year, but there are currently three tropical cyclones in this ocean basin as well. Typhoon Kompasu, with maximum sustained winds of 105 mph, is currently a Category 2 on the Saffir-Simpson scale and is forecast to become a Category 3 as it enters the East China Sea tomorrow. This typhoon is expected to hit the western North/South Korea border as a Category 2 on Thursday.
Tropical Storm Lionrock, with maximum sustained winds of 65 mph, is forecast to become a Category 1 tomorrow and make landfall as a tropical storm in southeast China (just west of Taiwan) on Thursday.
Tropical Storm Namtheun, with maximum sustained winds of 45 mph, is moving southwest and is expected to dissipate between Taiwan and China by Thursday, after running into Lionrock.
Third: severe thunderstorms in the Northern Plains.
Figure from the Storm Prediction Center.
A trough in the western United States is providing a chance for severe weather today and tonight in the Northern Plains. There is currently a line of thunderstorms from the Nebraska/South Dakota border up into Canada. None of these storms are particularly strong at the moment, but there were tornado warnings out earlier this evening in South Dakota.
Fourth: rain and cooler weather in Oklahoma.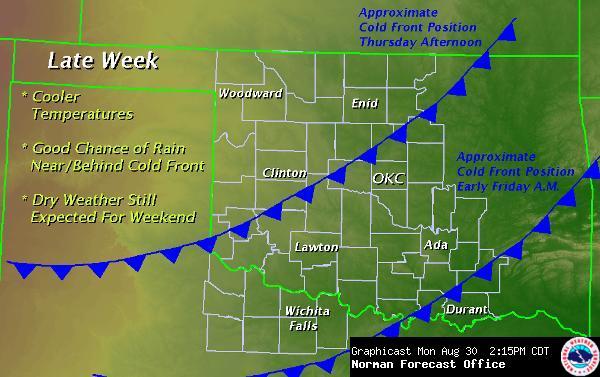 Figure from the National Weather Service in Norman.
We finally have showers and thunderstorms back in the forecast for this week! We are also expecting another cold front Thursday night, cooling down the temperatures a bit again for the weekend.
Autumn is on its way!
For up-to-date weather and website/blog updates, follow Green Sky Chaser on Twitter.